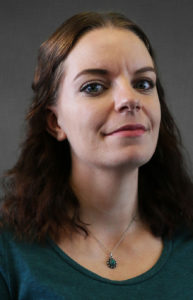 Elna Schütz
Content producer, Wits Radio Academy
Elna Schütz is a content producer and presenter at the Wits Radio Academy.
She has worked over a variety of shows, such as Law Focus, Business Buzz and The Science Inside, as well as short projects like the documentary series Crossings.
In these roles she has managed research, production, presenting, social media and various forms of reporting, as well as liaising with and training community radio stations.
Elna is particularly interested in narrative reporting, audio documentaries and the evolution of podcasting in South Africa. Her networking project Podmeet brings together people in the podcasting industry.
Education
BJourn (Radio) cum laude, Rhodes University, Year
Contact
Email: elna.schutz@wits.ac.za
Twitter: @elna_s