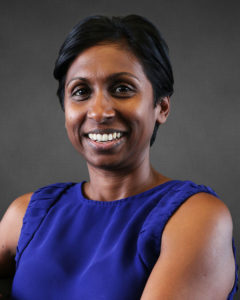 Dinesh Balliah
Coordinator, Career-entry honours in Journalism program
Dinesh Balliah is the coordinator of the career-entry honours in journalism program at Wits Journalism. She is also the coordinator of the Wits Vuvuzela Online. She is a new media and online journalism specialist.
Dinesh is also a member of the South African Press Council as a public representative. She is part of the advisory committee of the South African Media Innovation Project (SAMIP) run by the New York- based MDIF (Media Development Investment Fund). Dinesh also serves on the board of the Health-e News Service.
Over the last several years, Dinesh has been part of the Sikuvile Awards for Journalism Excellence, the Forum for Community Journalists Awards and the Caxton Media Awards as a judge.
Dinesh is a keen web designer and has designed the following sites over the years:
joburgcbd.com
mayfair.joburg
yeovillenow.co.za
Chinesejoburg.com
journalism.co.za/indepth/joburgjustice
In 2017, Dinesh was awarded the Faculty of Humanities Teaching and Learning Award for postgraduate teaching at Wits University.
From 2016-2018, Dinesh served as the deputy public advocate on the South African Press Council. She spent 7 years in the Department of Media Studies at Wits before stepping away from professional life and travelling abroad for 3 years. After returning to South Africa in 2010, Dinesh taught courses in Media Law and Online Journalism at Boston Media House, and Global Communication at the University of Johannesburg (UJ).
From 2001-2003 Dinesh was the Head of the Department of IT for Humanities at Wits University and was instrumental in conceptualizing and developing a new three year degree in Media Studies/IT for Humanities. In 2004, the department merged with Media Studies and Dinesh continued as the New Media subject specialist teaching undergraduate courses and supervising postgraduate research. For a period of three years Dinesh served as the Assistant Dean: Marketing and Publicity on the Executive Management Committee of the Faculty of Humanities. She has actively been involved in the Highway Africa New Media Awards (convened and hosted by Rhodes University), in the capacity of a judge, convener of judges and co-presenter of awards. In 2004 she served as a member of the Wits University Advisory Committee for Computer Literacy.
As a student, she was an active and long-standing member of the South African Students' Press Union (SASPU). In addition, she was involved with the production of the Dome Student Newspaper, student newspaper of the University of KwaZulu-Natal, in various capacities, but finally as the editor of the publication in 1998.
Dinesh tweets about the media, journalism and other matters using the handle @DineshBalliah
Education
Master of Arts (Historical Studies), UKZN, 2003
Bachelor of Arts (Honours), UKZN, 1999
Bachelor of Arts, UKZN, 1998
Contact
Email: dinesh.balliah@wits.ac.za
Twitter: @DineshBalliah